You have your football pitches. You have your old-school not too family friendly stadiums. You have your modern football arenas. And then there's the Stockholm Olympic Stadium. I've been to many stadiums across Europe, but there's nothing quite like this one. If you are walking around the area, you would think that it's a castle. There is not many football stadiums like this left. And preserved so well.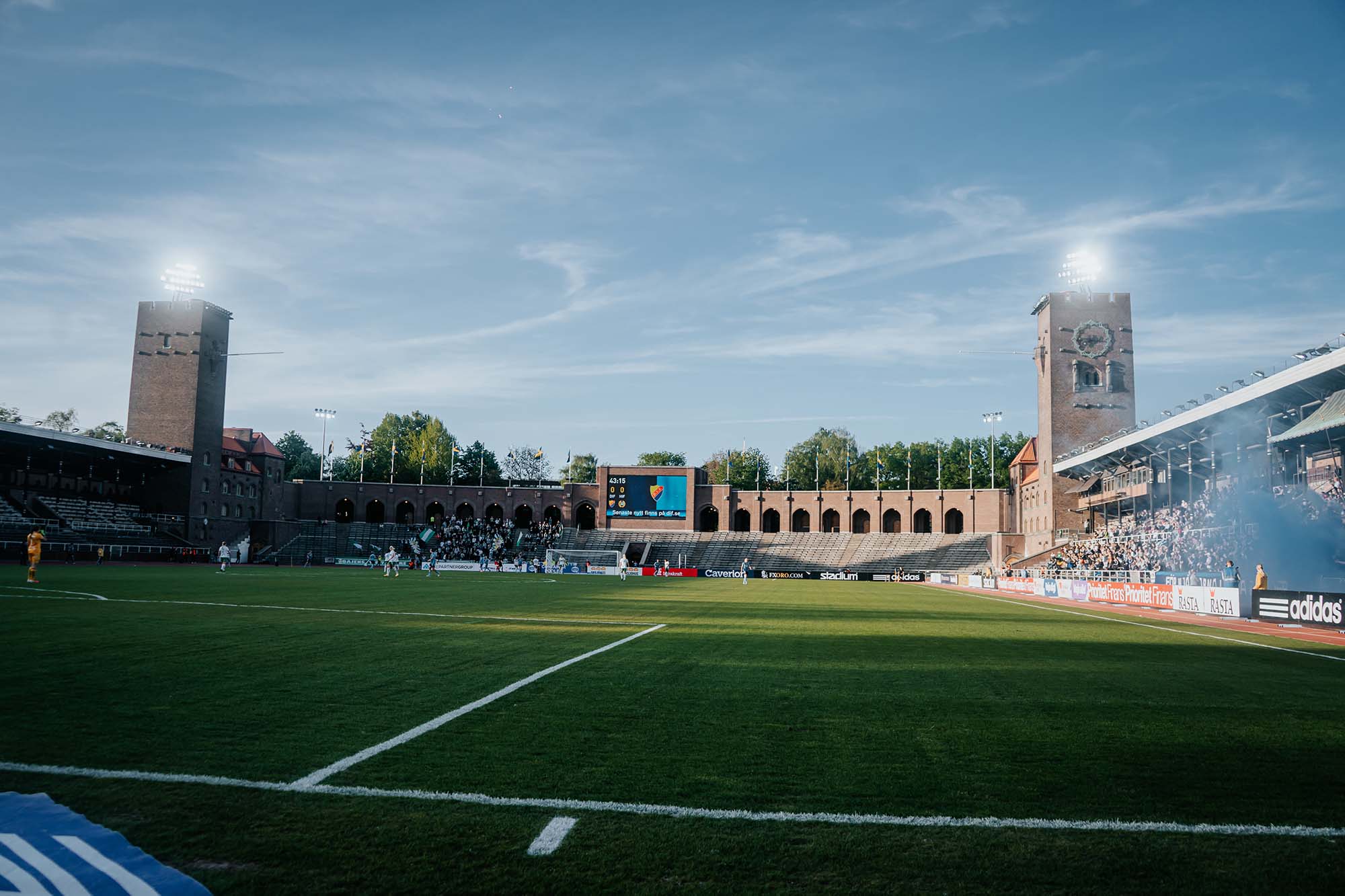 But this stadium built for the 1912 Olympic Games isn't just special for how it looks. It's also special in relation to the derby that happened yesterday between Djurgårdens IF and Hammarby IF as this is the place where the first ever set of matches between these two teams happened all the way back in 1920. This is also where this derby continued to happened for many decades. And now, as both of the men teams play at a much bigger Tele 2 Arena instead, 102 years laters, the derby matches between Djurgårdens IF and Hammarby still continue here, played by the women teams.
Sometimes Numbers Don't Matter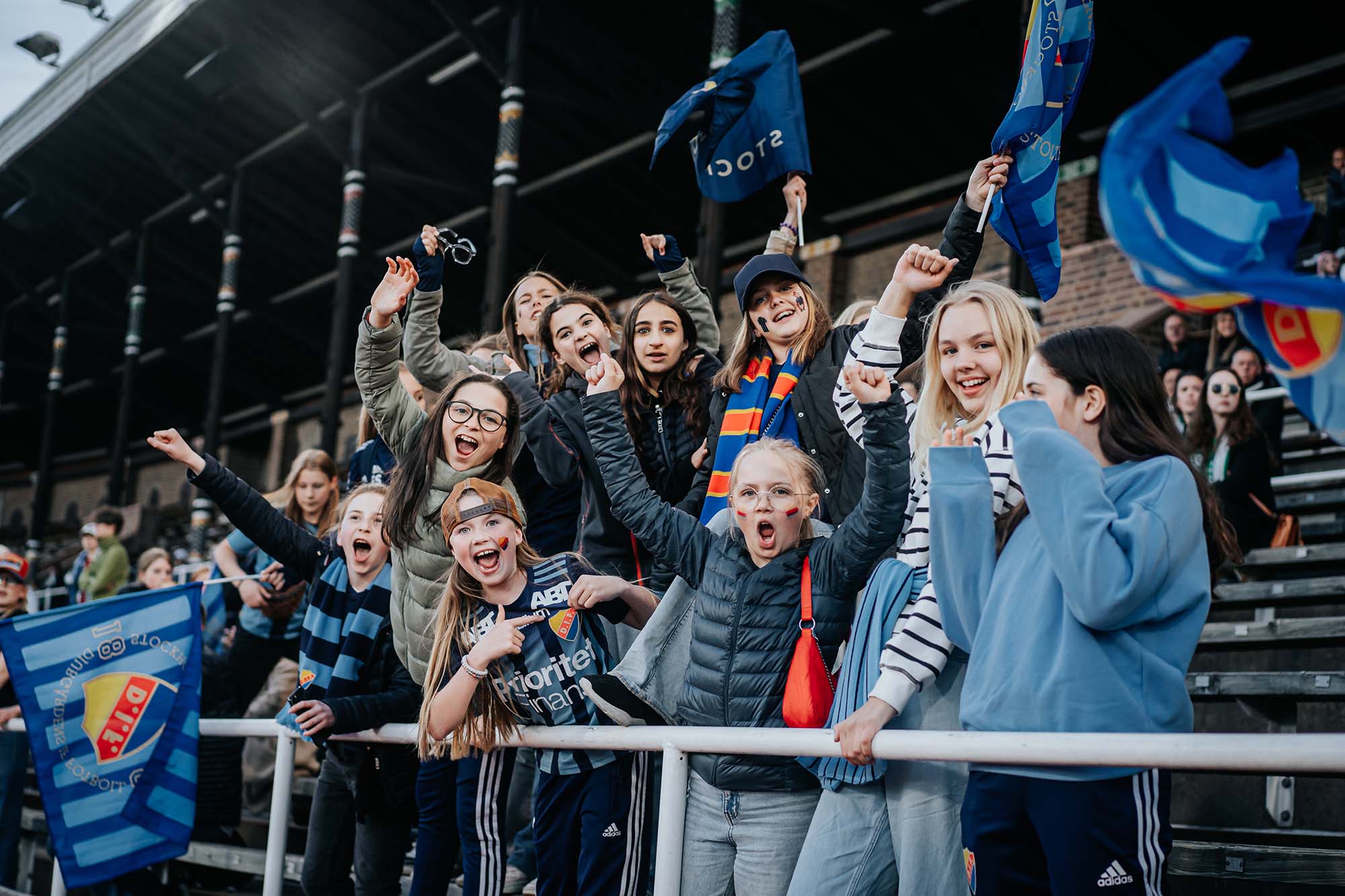 There's a lot of talk about the growth of women's football especially with Barcelona getting over 90,000 people at Camp Nou twice during the 2021-22 Champions League season, but it's important to acknowledge that many games in the top leagues in Europe still do not host more than 50% percent of the stadium capacity and that there's still a long way to go to attract a consistent number of fans to games, even if it's a Stockholm derby.
Hammarby as a club is known for its fans in all kinds of sports, and they have for example, in the 2021 season broken a over decade long attendance record in women's football in Sweden hosting 18,537 fans at the Tele 2 Arena. At the start of the 2022 season they have also so far hosted the most fans in a singular game, with that number being at 7,877, but those are more so singular events, and an average game of both of the teams, would consist of around 1,000 people per game.
In this case, the number was 2,134, and let's say that numbers don't always matter, as while the stadium for sure wasn't filled up, the atmosphere was ecstatic. From the moment the players ran onto the pitch before the start of first half, both of the fans, young and older, were using their voices to their full, and when groups of people come together to build an atmosphere, that's all that matters.
As the players ran onto the pitch, fans of both of the teams, started a pyro showed, and then, well, then we started.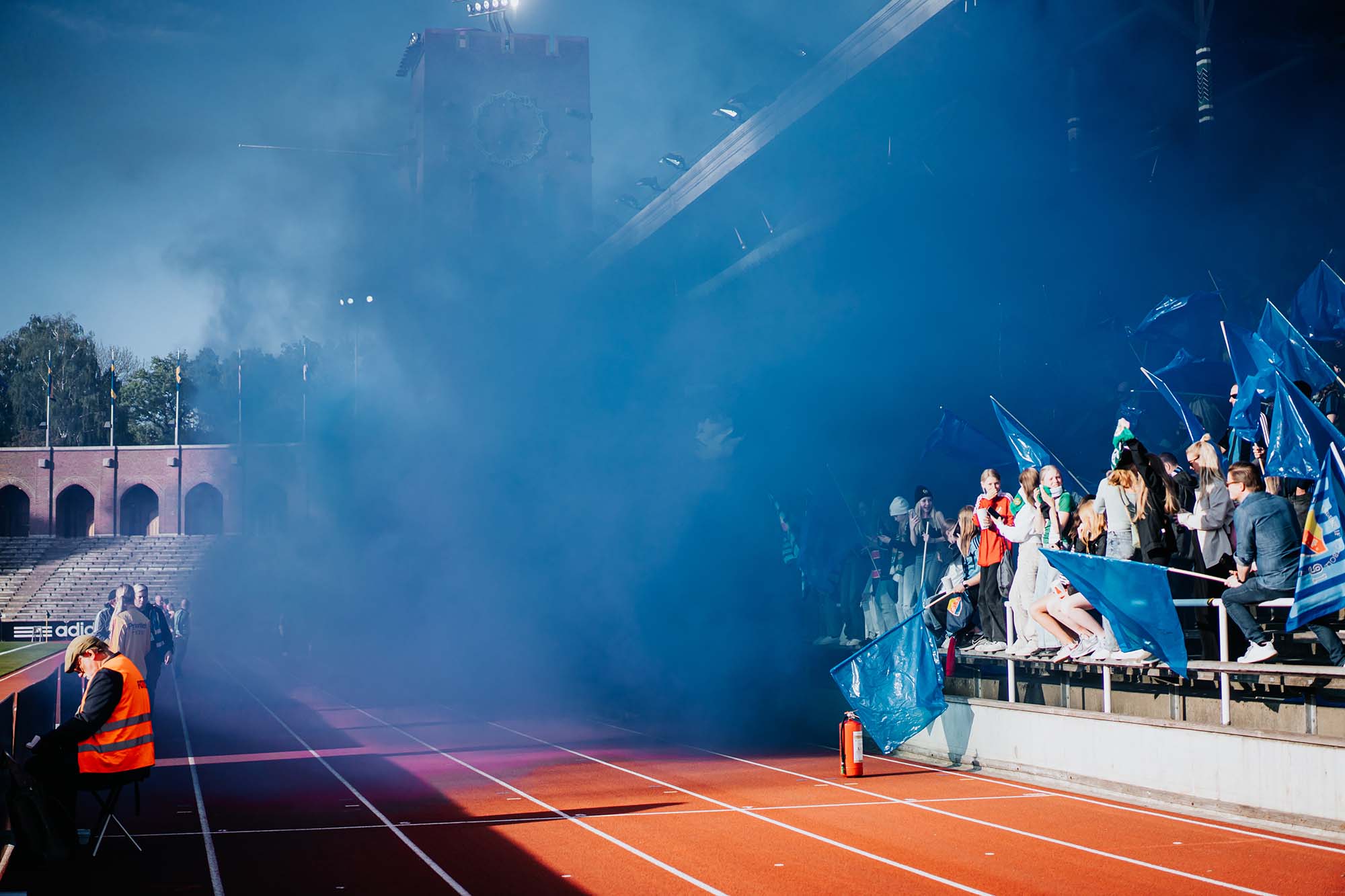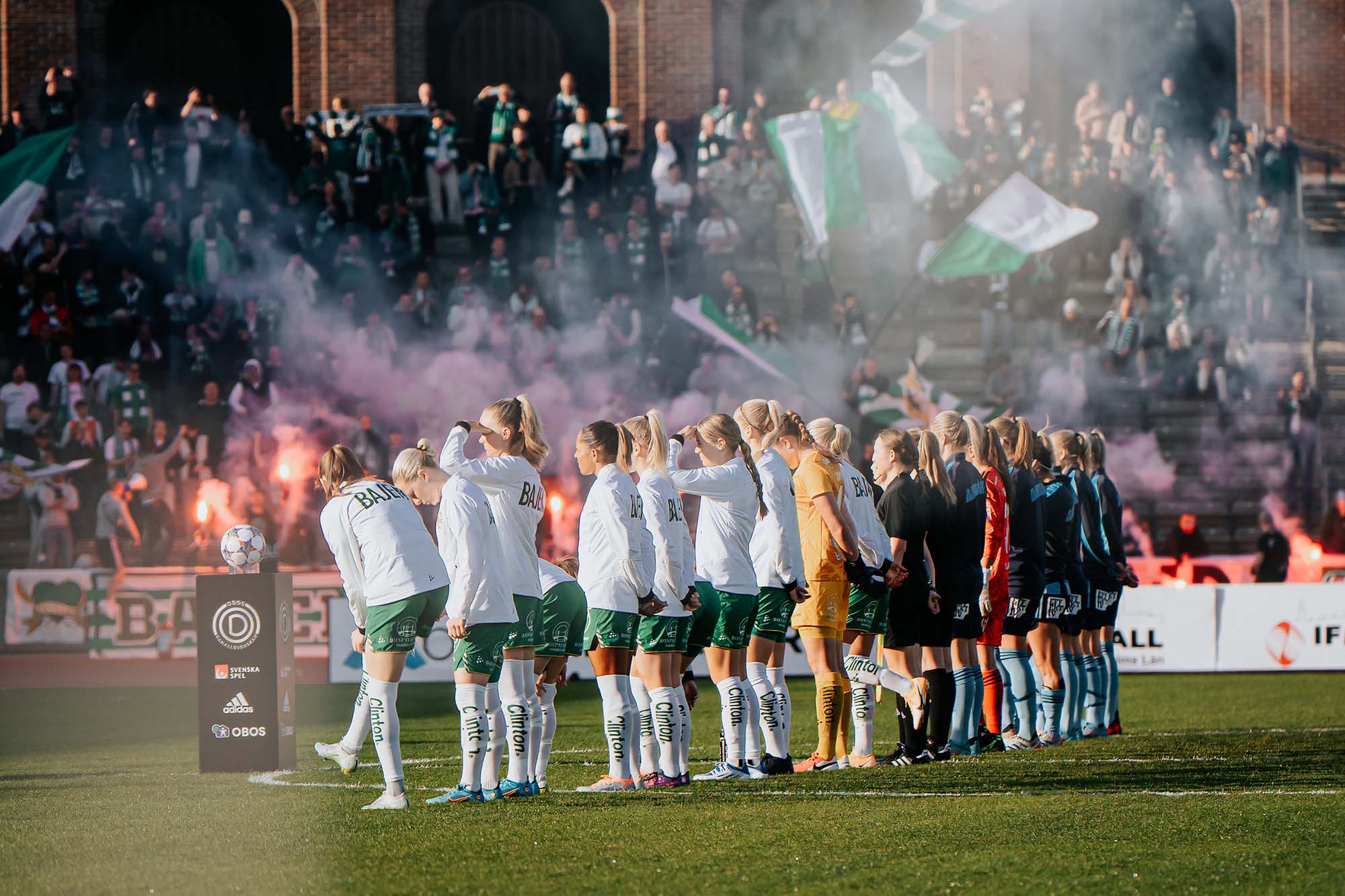 During the first 15 minutes of the game, it was clear that Hammarby was quite sloppy with their plays, and they almost got punished for it in the 15th minute, when after a center-back to center-back pass that put Hammarby's captain under pressure combined with a bad first touch, the ball fell right under Djurgårdens striker Hayley Dowd who got herself in the first half's best goal situation which was kept out well by the Finnish national team goalkeeper, Anna Tamminen.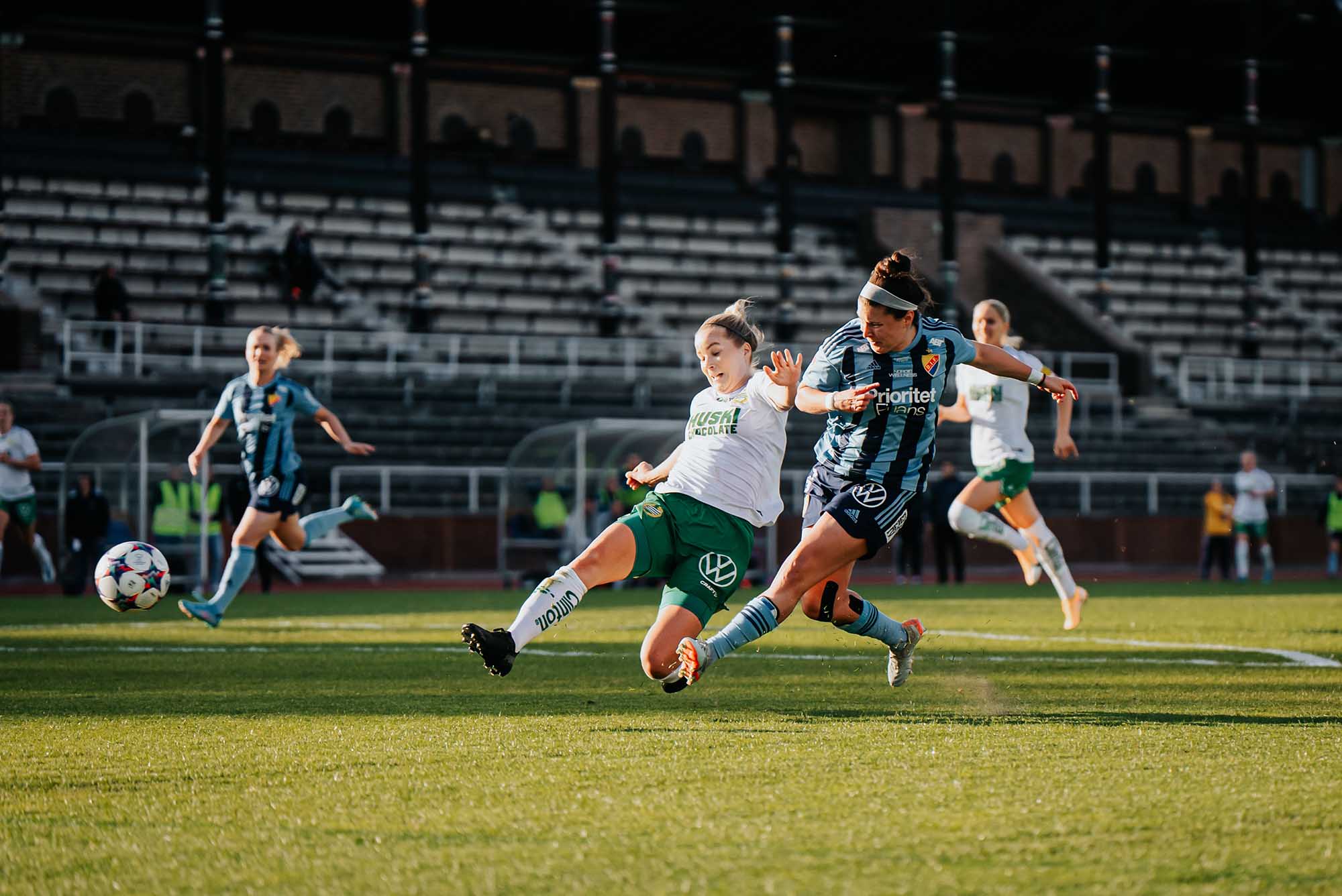 Hammarby did end up getting a few chances towards the later part of the first half, amassing to "five shots on goal," compared to Djurgårdens just one, but data aside, there was no clear dominant team that deserved to be ahead going into half-time and no one could be sad about a zero-zero result.
Fans at the Olympic Stadium had to wait under 10 minutes into the second half to get a goal, and while it was Djurgården that very briefly took control at the start of the second half, it was the away team that took the lead after a nice through ball followed by a brilliant pass into the box, that was finished with a first touch shot off the crossbar by Vilde Hasund.
Hammarby's lead lasted for just about 20 minutes, as Tilde Lindwall took a outside of the box shot right between two Hammarby defenders and right into the bottom right corner to give Djurgårdens an equalizer in the 73rd minute.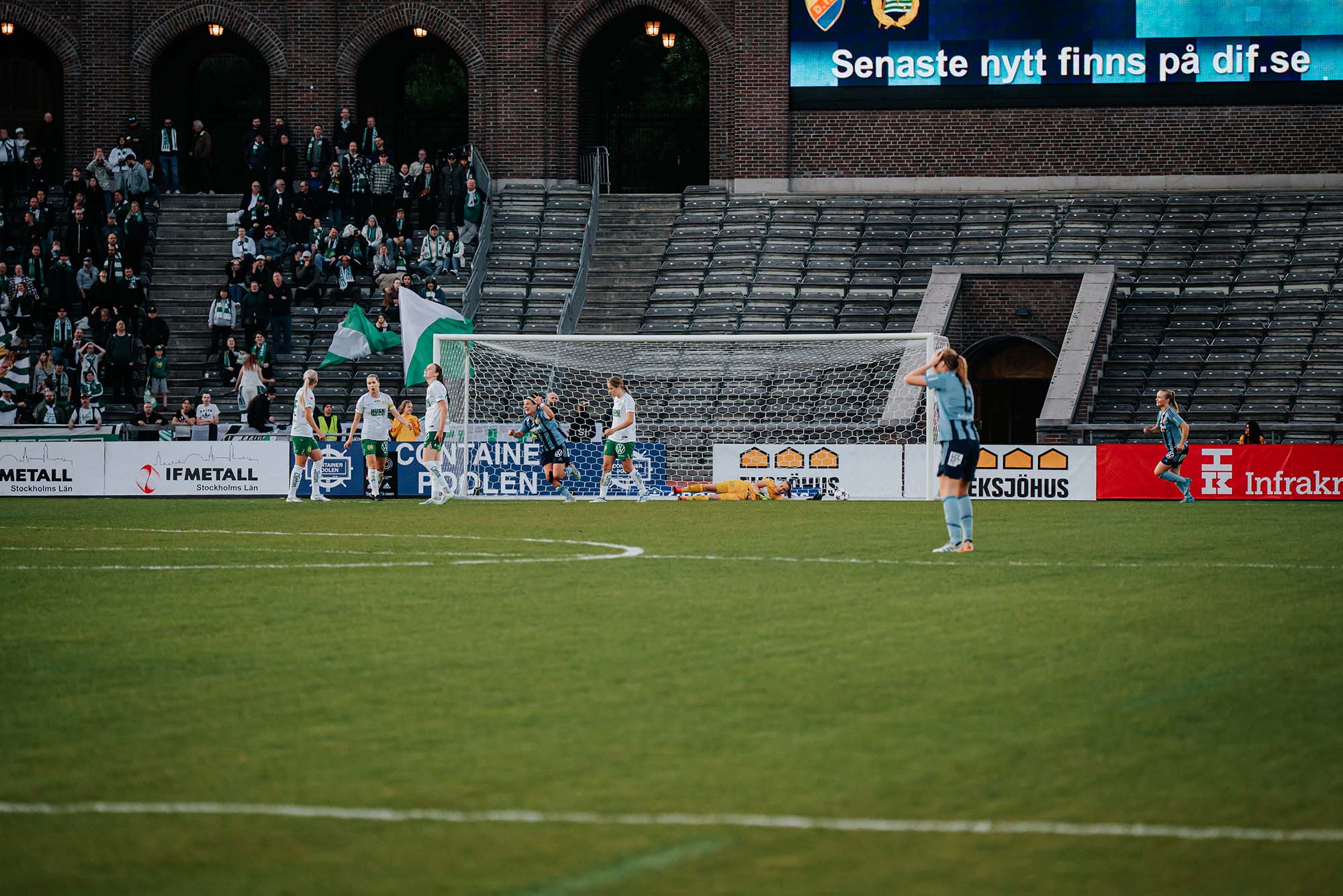 Going into the 90th minute one would think a draw was about to be served on the plate, but football loves 90th minute goals, and Hammarby wins a corner which Elsa Maria Karlsson converts with a header, giving Hammarby a derby win, and apparently the first ever away match win.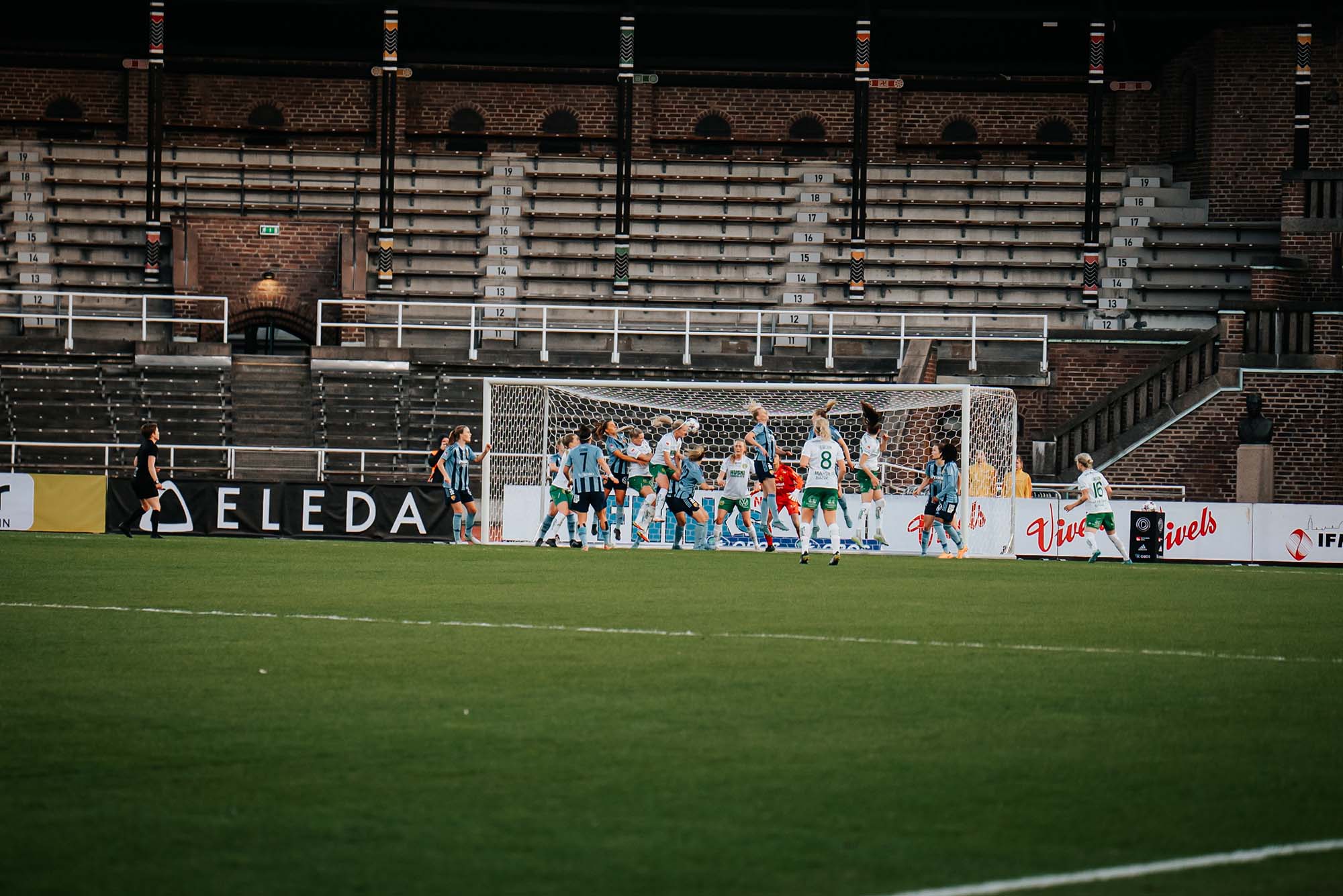 Just before the match finished, Hayley Dowd highlighted why not having enough excess grass on a football pitch can end badly as she ran out of the field after a fierce battle, falling right onto the track that the Olympic Stadium consist of.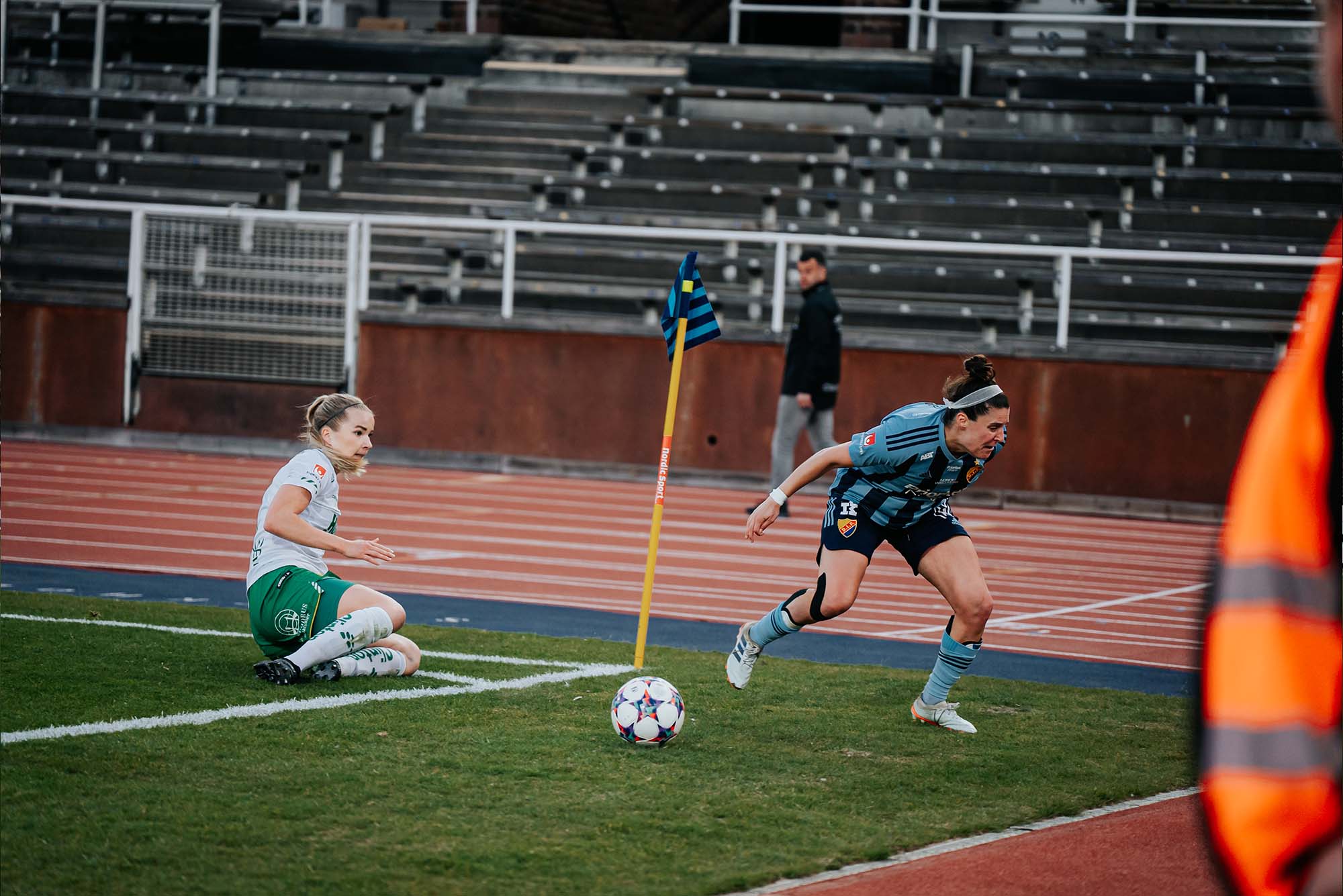 The result of this match didn't in itself make a huge difference in the table as both of the teams still lie in the bottom part of the middle, but to win a derby is always something special, especially if it happens in the 90th minute of the match, and Hammarby celebrated accordingly with their fans.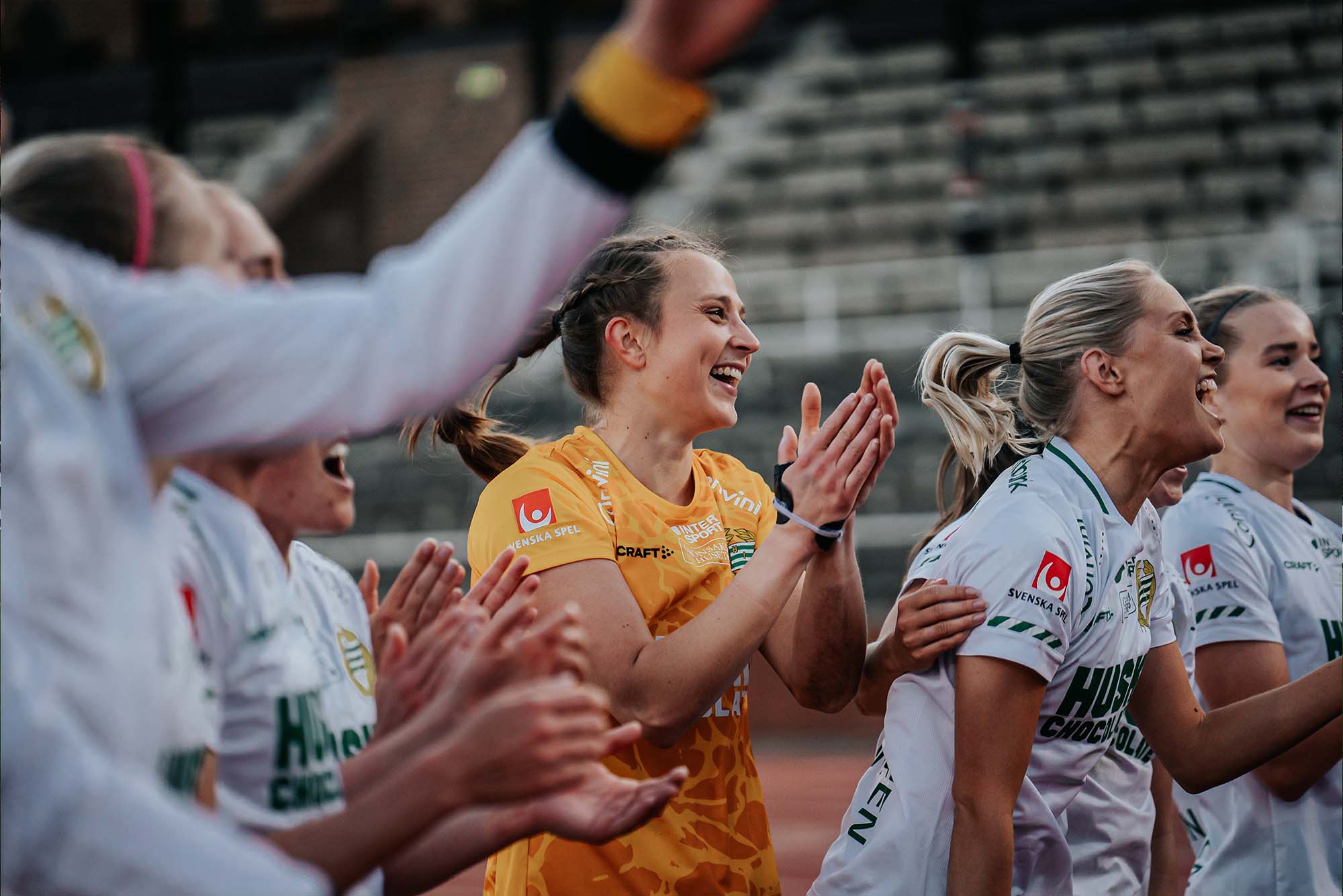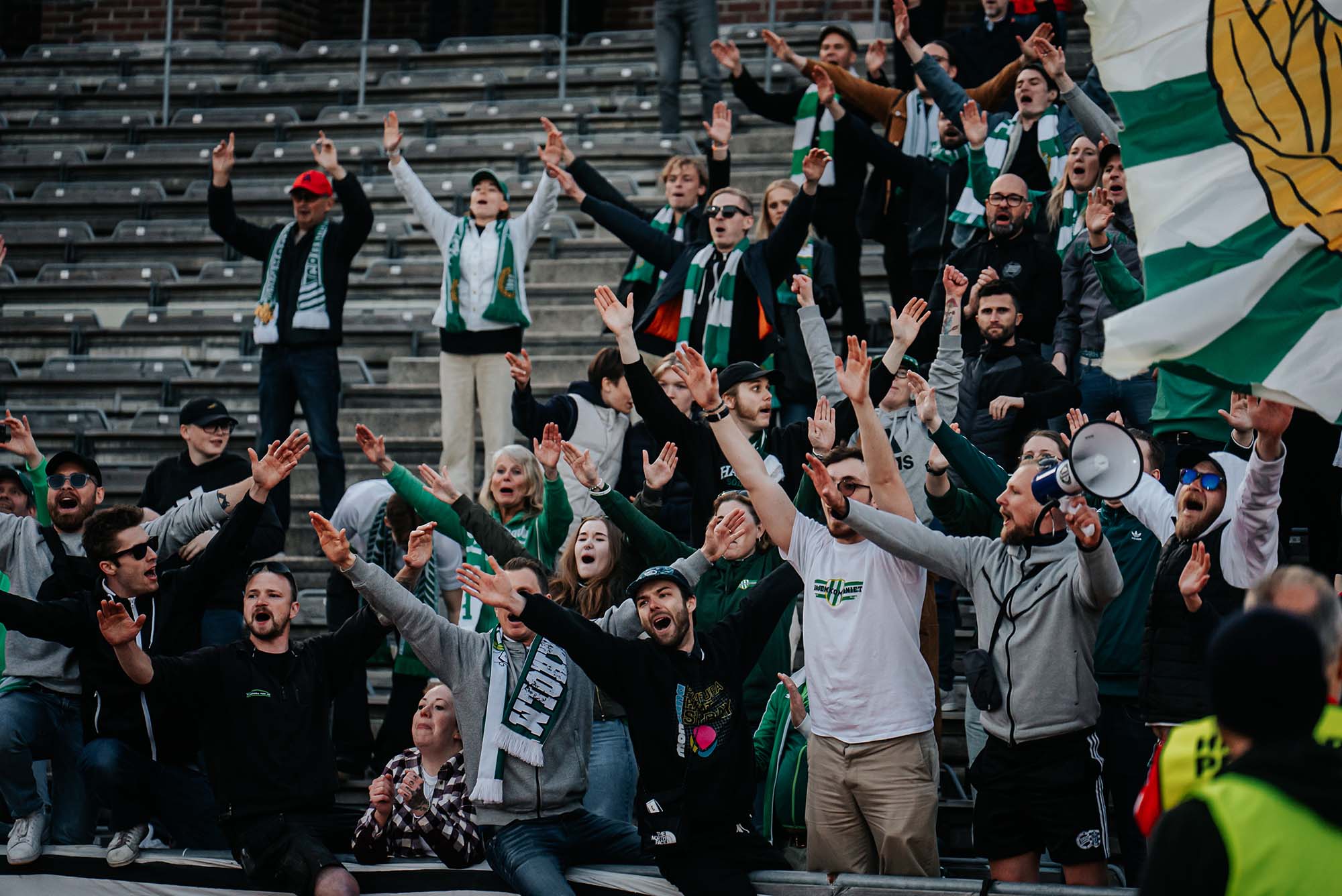 ____